In today's digital era, more and more people are watching movies online. And there are a lot of great legal movie apps out there that allow you to watch free movies.
In this article, we will explore some of the best legal movie apps that allow you to watch free movies. We will also discuss the feature of each app, so that you can decide which app is right for you.
So without further ado, let's get started.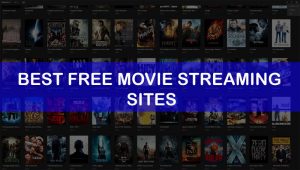 6 Free Apps to Legally Stream Movies
Plex is a free movie streaming app with an extensive catalogue of movies and TV shows. You can browse by genre, actor, director, or even search by keyword. You can download movies to watch offline, and the movies can be played in Plex's app or on a device connected to your Plex account. You can sign in to your Plex account to watch the content you've stored there. Plex is one of the more complex free movie apps to use, but it's worth the effort.
Tubi TV is the number one free movie app with millions of movies to watch. Tubi TV was founded in 2014 and is based in Los Angeles, CA. You can watch all of Tubi TV's content for free. You can use the app to find movies, TV shows, and documentaries, all for free. They have a lot of great content such as new releases, old classics, and recent TV shows. Tubi TV has a lot of original content and they are always adding new movies to their catalogue.
It's a lot like Netflix, the only difference is that it offers free movies. Tubi TV is always updating their content, and you can watch as many movies as you want. Tubi TV's app has a lot of features such as movie trailers, movie posters, plot synopses, movie reviews, movie clips, movie trivia, and many other fun features.
3. Crackle
Crackle is a video on demand service that offers a lot of content, including free movies you can watch on your mobile, tablet, computer, or on your TV. While it's primarily a movie app, you can also watch TV series and documentaries. The app is easy to use, and the content quality is good. It's also one of the few free movie apps that offers an instant play option. The app is available on Android, iOS, Xbox, PlayStation, the web, and some smart TVs.
Crackle also has a large selection of recent and classic films, and you can add to your queue to watch later.
4. Vudu
Vudu is a free movie app that offers a mix of free & paid movies and TV shows. The movies are of good quality and are available in both HD and SD versions. Vudu's movie player might be a bit convoluted, but it's still pretty great. What's great about Vudu is that it works on both Android and iOS, and the apps are easy to use and work well. You can watch free movies and TV shows on the web, on your computer, or on your TV. The app also offers a premium plan, but the free plan is enough to watch movies and TV shows online.
5. Pluto TV
Pluto TV has a catalog of free movies available, sorted by category and with popular movies and new arrivals shown right on top. The movies are of good quality and ultra-smooth streaming, and the movie player is easy to use. The movie player is easy to use and offers a variety of features, from subtitles to screencasting. Pluto also has a lot of live TV channels for free. You get more than 90 channels, including channels for news, sports, music, and more. The app is only available on Android and iOS but the web-based version is good to go on all devices.
6. Freevee
Freevee is one of the best free movie apps when it comes to movies. If you're looking for a free movie streaming app that's very easy to use, Freevee is a good option. The app has a clean, simple interface that's easy to navigate. It's also easy to find anything you want to watch. You can browse on the app's homepage or search for a specific movie. Once you find a movie you want to watch, tap the play icon. The movie starts playing immediately and you can skip through the ad-supported movies or pause the movie to go back and watch a specific scene. What's great about Freevee is that it's a free movie app that doesn't cost money.